Hi!
Electronic signatures have become an essential part of modern business operations. They offer convenience, security, and efficiency in signing documents and reports. In this guide, we'll walk you through sending electronic signature requests and downloading the signed reports in Day.io.
Table of Contents
Sending Electronic Signature Requests
Downloading Signed Reports
Resending or Canceling Signature Requests
1. Sending Electronic Signature Requests
Log in to your Day account with the necessary permissions to access the Payroll section.
After completing the Time Report closure for a specific Payment Group, you can send an electronic signature request.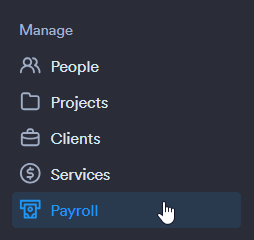 Option 1: At the Time of Closure
When creating a new Locking, you'll see a "Request signatures in the reports" checkbox.
By checking this box, a request for electronic signatures will be automatically created for the selected columns.
Option 2: Through the Electronic Signature Menu
Go to the Payroll section and select "Electronic Signatures."
Click the "+ Request" button to create a new request for a specific Payment Group.
Select the Payment Group, the closure period, and the columns to be included in the electronic signature.
Click "Confirm" to create the request.
2. Downloading Signed Reports
You can download the signed reports once you've sent electronic signature requests and employees have signed their reports.

Access the Payroll > Electronic Signatures menu.

Click on a specific request to view its details, including each employee's status and signing date.

Hover over the employee's name to download a signed report, and the "Download" button will appear.

Click "Download" to save the report in PDF format.
3. Resending or Canceling Signature Requests
If you need to resend a signature request (to remind the employee) or cancel it for any reason, follow these steps:

Access the relevant group in the Electronic Signatures menu.

Hover over the employee's name, and click the "..." menu.

Select either "Cancel" or "Resend" based on your requirements.

A canceled request won't be available for signing by employees.

A new request will remind employees to sign their reports.
These electronic signatures carry a verification token at the bottom of the signed report, ensuring the validity and legal compliance of the signatures. If you have any questions or encounter issues, please contact Day.io Support team via chat for assistance.
That's it! You've learned how to send electronic signature requests, download signed reports, and manage these requests effectively in Day.io platform.